Mocktails! A one-week design charrette.
During a week of "
Dry January
," 2023, 16 teams of Ohio State industrial design students contributed to the world of non-alcoholic mixology – they designed "Mocktails" – putting their design skills to the test in an unfamiliar realm. Mocktails have seen a wave of popularity and increased interest in the last year (a quick internet search will reveal articles like
this
and
this
from the New York Times), and "food design" has seen sustained interest in the academic design community as well (an overview
here
), allowing participants in the 2023 Industrial Design Charrette to add their voices – and flavors – to the mix!
To kick-off the 2023 Charrette, Ty Phillips-Bond, Beverage Director at Columbus area distillery Watershed, provided a keynote demonstration to a packed room, including crafting a non-alcoholic version of "Legend of Baba-Budan" from
Watershed's current cocktail menu
.
Student teams, each consisting of a 2nd, 3rd, and 4th year industrial design student, left the kickoff event with not only inspiration, but each team was also provided a unique imposed ingredient (e.g., corn, animal, leaf, wood, fungus, dairy, nut, fat), a required "cultural mixer" (i.e., a graduate student from a specific region of the world), and one of four classic bar glasses sponsored by
Libbey
. Libbey's sponsorship also afforded each team a modest budget to help cover the cost of ingredients. 
In a departure from the typical studio-style learning environment of design school, student teams were challenged to follow their own creative prowess, independently managing their time and exploration so as to return a week after kickoff to craft their final mocktail and present it during an on-campus photoshoot.
Student efforts culminated in a Mocktail Party, sponsored and hosted by local design firm
Priority Designs
, attended by more than 75 design students, faculty, and professionals. To ensure party-goers would have an opportunity to taste each of the 16 mocktails, student teams adapted their drinks to 1-ounce shot glasses. A panel of judges, which included faculty and graduate students from Ohio State and folks from Priority Designs, gave out 13 superlative awards (e.g., "most creative use of imposed ingredient," and "most innovative drinking experience") as well as judge's choice awards.
Mocktails were also featured on drink posters, designed as a collaboration between William Nickley & Sébastien Proulx, during the event.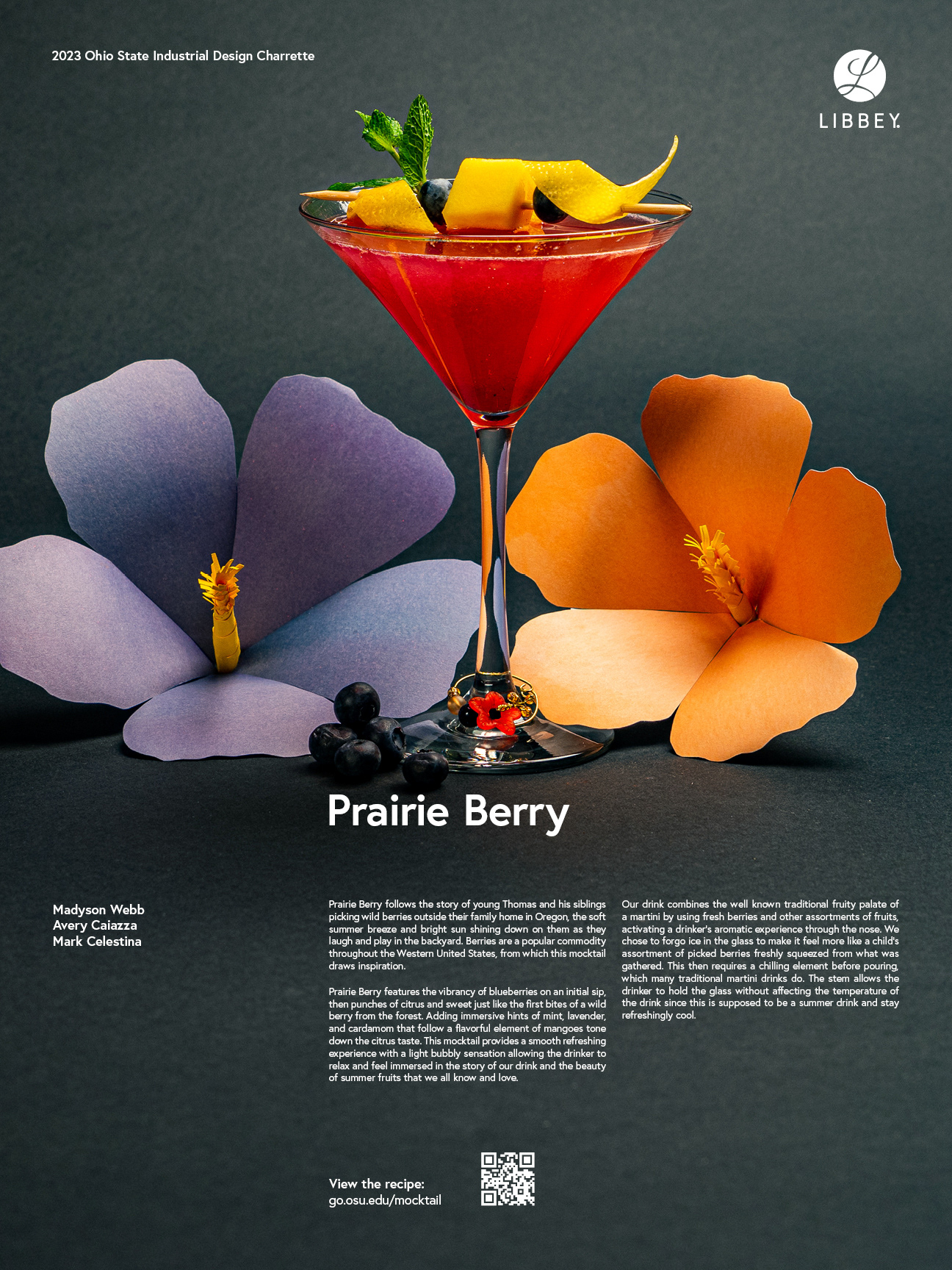 Due to continuing enthusiasm about the 2023 Charrette from students, faculty, design community members and program alumni, development of a mocktail recipe book is underway with a planned 2023 release date.